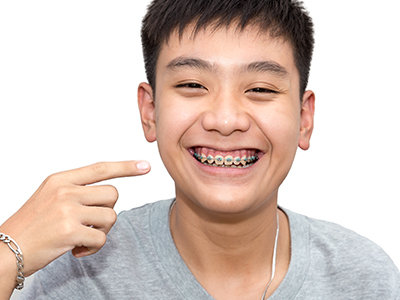 Metal Braces:
Metal braces remain the most common type of orthodontic appliance. Made of medical-grade stainless steel, we at SmileAlign use a "micro" brace version that is up to 30% smaller than other metal braces. This lower profile makes these braces more comfortable and more attractive. During treatment each brace is individually bonded to the front of each tooth. With metal braces the patient has the option of adding colored elastics for a more unique and colorful smile.
Ceramic Braces:
For those who want a more cosmetic appearance, ceramic braces are an excellent alternative to metal braces. Ceramic braces, or clear braces, blend in with the natural color of your teeth. Although they are far less visible than metal braces, they deliver the same outstanding results. This type of brace is also a great alternative for patients who are not comfortable using removable clear aligners like Invisalign.
Whether you choose metal or ceramic braces, it is very important to continue to visit your dentist's office at least every 6 months for regular professional teeth cleanings and exams during your orthodontic treatment.
Additional Information
Our Location
1680 East 19th St

Brooklyn
,
NY
11229
(718) 513-9703
Follow Us