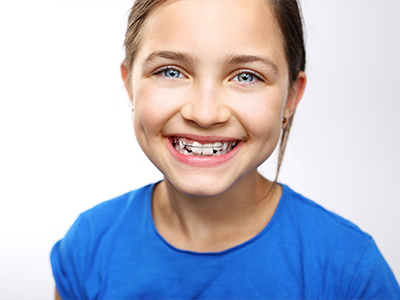 Did you know that issues affecting the alignment of your children's teeth and the growth of their jaws can be identified as early as the first or second grade? That's why the American Association of Orthodontists recommends that children meet with an orthodontic specialist no later than age 7.
At this consultation the orthodontist will examine your child's bite and assess how well the teeth are erupting to identify any concerns. In addition, this exam will determine if any premature tooth loss, habits, or breathing patterns are affecting your child's dental development. The orthodontist will advise you if immediate preventative orthodontic care is needed or if your child can be observed until a later time.
For some young children habits such as thumb sucking, low tongue posture, and certain breathing patterns can distort the bite. In these situations care is best started at a younger age. Early treatment is also helpful when the top jaw is too narrow or is not developing in harmony with the lower jaw, such as an under-bite. Your orthodontist may also consider early care for a young child whose front teeth protrude excessively or are severely crowded.
Objectives of early treatment are straightforward: to create more space for crowded teeth, to help correct harmful habits, to improve the bite by influencing jaw growth and to improve facial cosmetics. These treatments can often lessen the need for extracting permanent teeth.
It is important to know that patients who receive early orthodontic treatment generally still need full braces or clear aligner treatment once all adult teeth erupt; however early treatment can shorten and simplify future orthodontic care.
Additional Information
Our Location
1680 East 19th St

Brooklyn
,
NY
11229
(718) 513-9703
Follow Us